Salted Caramel Chewy Granola Bars
Apr 05, 2022
Ooey gooey chewy, decadent, delicious and loved by all in the family!!
No cooking. One dish. 5 minutes
Ingredients
1/2 cup maple syrup
1/3 cup unsweetened almond butter
3 tbsps coconut oil (NOT MELTED)
3 Medjool dates, pitted
1 tsp vanilla or 1 scoop Juice Plus Vanilla Whole Complete, pick it up here
1 1/2 cups old fashioned oats
1/2 cup shredded coconut
1/2 cup coarsely chopped almonds (or other nuts)
1/2 tsp Himayalan salt
Optional add in's
1/4 cups chocolate chips, sunflower seeds, hemps hearts, chia seeds or anything that suits your fancy
​Instructions:
1. Combine the maple syrup, almond butter, coconut oil, dates, vanilla or Juice Plus Whole Complete in a food processor. Process until smooth
2. Add in remaining ingredients and pulse until mixed
3. Pour into 8x8 baking pan with parchment paper. Flatten out.
4. Refrigerate for about 2 hours to harden a bit. Cut into 12 pieces.
Keeps in fridge for 10 days or freeze up to 2 months.
Energy Balls - check out recipes here
Healthy Chocolate Treats - check out treats here
Lemon Turmeric Balls and Oatmeal Chocolate Fudge Bars - check out recipe here
Want to get more fruits and veggies into your kids for FREE? Yes, it's possible, just email me at [email protected] and let's chat.
Ok, I did not start out like this in 2003 when I was tired of decades of chronic bronchitis, a weakened immune system, yo-yo dieting, anxiety & mood swings, dips in energy, surviving on caffeine & sugar, and what I thought was healthy eating, my personal journey towards healthier eating began.
But, I need to change what I was doing because I could no longer continue feeling sick, depleted and moody.
FAMILY CHALLENGES
Caring for two young boys and a husband, I wanted all of us to be in our "best health" and to focus on the prevention of illness. Keeping in mind that we all had our own taste buds presented many challenges during my family's years of transition. What healthy meals can I make that we would all enjoy? There were many times in my quest to healthier eating that I would come home from the grocery store on the verge of tears as there was no "real food" to buy that we wanted to eat. With a lot of cooking experiments, research and relentless reading, one can only imagine the experiences we have had!
TWO SIMPLE CHANGES
In 2007, I hit the jackpot and my health and vitality soared. Also, my family was now in sync with the changes! I was so passionate about my discovery that I wanted to tell everyone.
There are many great changes that I can and will share with you, but this adventure is what I would love for you to explore first for yourself, as it is the easiest place to start with great benefits.
You won't believe how vibrant and energetic you will feel. You won't believe by implementing these 2 simple changes how much time and money you will save. Not only that, your family will also love what I have to share.
I'd love to hear what you are doing right now to lose fat, weight and inches and to gain energy in our Vibrant Living Community!
Cookie Dough In The Dark. Greatest read in a long time
June 10, 2019
5 Star Amazon Review of Cookie Dough in the Dark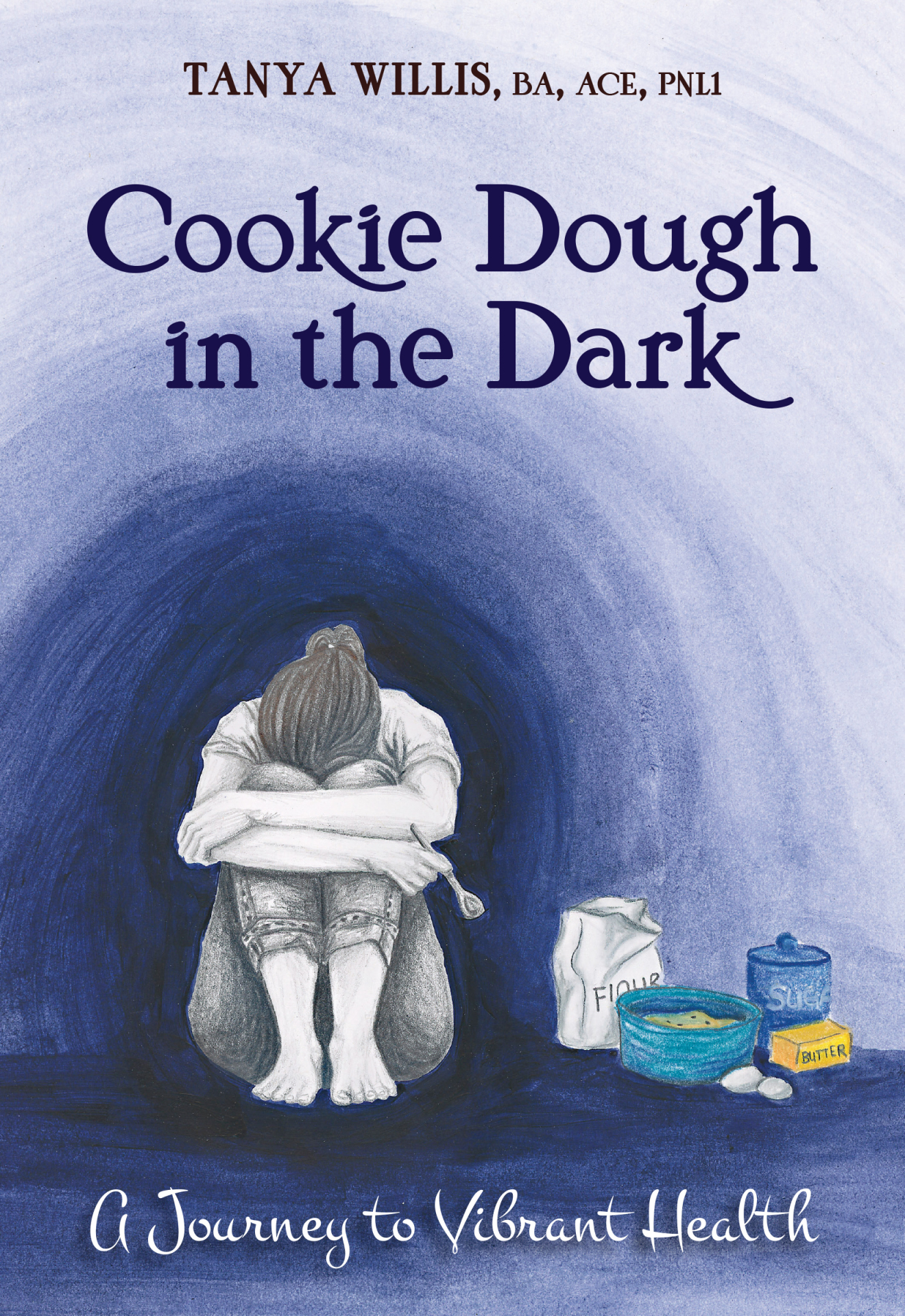 Tanya, your emails and stories really help me cope with the struggles I have when it comes to eating. I started your book, Cookie Dough in the Dark, and I started to cry. It brings back memories of my early thirties and now. Thank you for sharing your raw story and the steps you took to get where you are today. A must read for anyone who overeats!! Thank you for your support & understanding." - Monika
I'm a wife and mum, personal trainer, fitness/pilates instructor, Behaviour Change Specialist, Nutrition Coach, Pain-Free Movement Specialist, author of Cookie Dough in the Dark, creator of Vibrant Living Membership - your ONE STOP shop for movement + nutrition + mindset..... among many other things!! I've had many issues dealing with the scale going up and down, a muffin top that wouldn't disappear, emotional eating binges that did not involve carrots and struggling with insecurity! Through all of this I just wanted to feel normal. I wanted to be happy like everyone else!
In my teens and 20's I wanted the quick fixes, the magic pills, the fairy dust – whatever I could get my hands on to make me a lean, happy and sexy machine. Yup, found out it doesn't exist. I wanted to cry!! I was so frustrated. I felt like I was going around and around until I was completely exhausted and back at the starting point. And when I talk with other women they feel that way too. So, I delved further into holistic health – the emotional, mental and physical – wrote a book, and have been in this field for many years helping 1000's of women.

I discovered that by being smarter, not working harder, I could get the results I wanted and also for my clients. It started with some really small shifts that I will share with you over time. With this new knowledge, I felt ALIVE, VIBRANT and COMFORTABLE in my own skin. And my clients felt this way too!
My mission is to continue to help women step into the body they WANT. To feel confident & sexy, in control of their food choices and have their clothes fit just as they should while having the energy to live a VIBRANT life.
Ready to elevate your health? As a certified Behaviour Change & Nutrition Coach, I'd be happy to chat with you. Contact me at [email protected].
Healthy hugs,
Tanya
I look forward to seeing you inside the 5 day stronger to the core challenge
Join us
Stay connected with news and updates!
Join our mailing list to receive the latest news and updates from our team.
Don't worry, your information will not be shared.
We hate SPAM. We will never sell your information, for any reason.