Vitamin D - Critical for Great Health
Oct 24, 2020
How Can I Get Enough Vitamin D?
We all need to increase our whole food consumption of micro-nutrition and supplement with these 5 superstars for optimal health. Check out the brands you need HERE.
Today, let's highlight Vitamin D
It's difficult to get enough vitamin D; vitamin D is, therefore, a very common deficiency.
So, let's talk about how much of this critical fat-soluble vitamin we need, and how you can get enough. The three ways to obtain vitamin D are exposure to the sun, consuming vitamin D containing food, and through supplements.
Why is vitamin D important, and how much do we need?
Vitamin D helps us absorb calcium from our food and acts like a hormone to help us build strong bones. Vitamin D can also help with immune function, cellular growth, and help to prevent mood imbalances such as depression and seasonal affective disorder.
Not getting enough vitamin D can lead to bone diseases like osteomalacia. Inadequate vitamin D can also increase your risk of heart disease, autoimmune diseases, certain cancers, and even death. The "official" minimum amount of vitamin D to strive for each day is merely 400-600 IU. Many experts think that this is not nearly enough for optimal health.
To ensure you get adequate amounts of vitamin D, you can implement any combination of the three vitamin D sources mentioned above on a weekly basis.
How can I get enough vitamin D from the sun?
Your skin makes vitamin D when it's exposed to the sun; that's why it's referred to as the "sunshine vitamin." How much vitamin D your skin makes depends on many things. Location, season, clouds, clothing, all affect the amount of vitamin D your skin can produce from the sun. One standard recommendation is to get about 5–30 minutes of sun exposure between 10:00 a.m. - 3:00 p.m. to the face, arms, legs, or back. This should be done without sunscreen, at least twice a week. When you are ready to put on sunscreen, please use ones without chemicals, my preference is Beautycounter>>> such as the ones that I use. Of course, we should always avoid sunburns and of course in some locations (and seasons of the year) it's not easy to get sun exposure. So, how can we get enough vitamin D in other ways?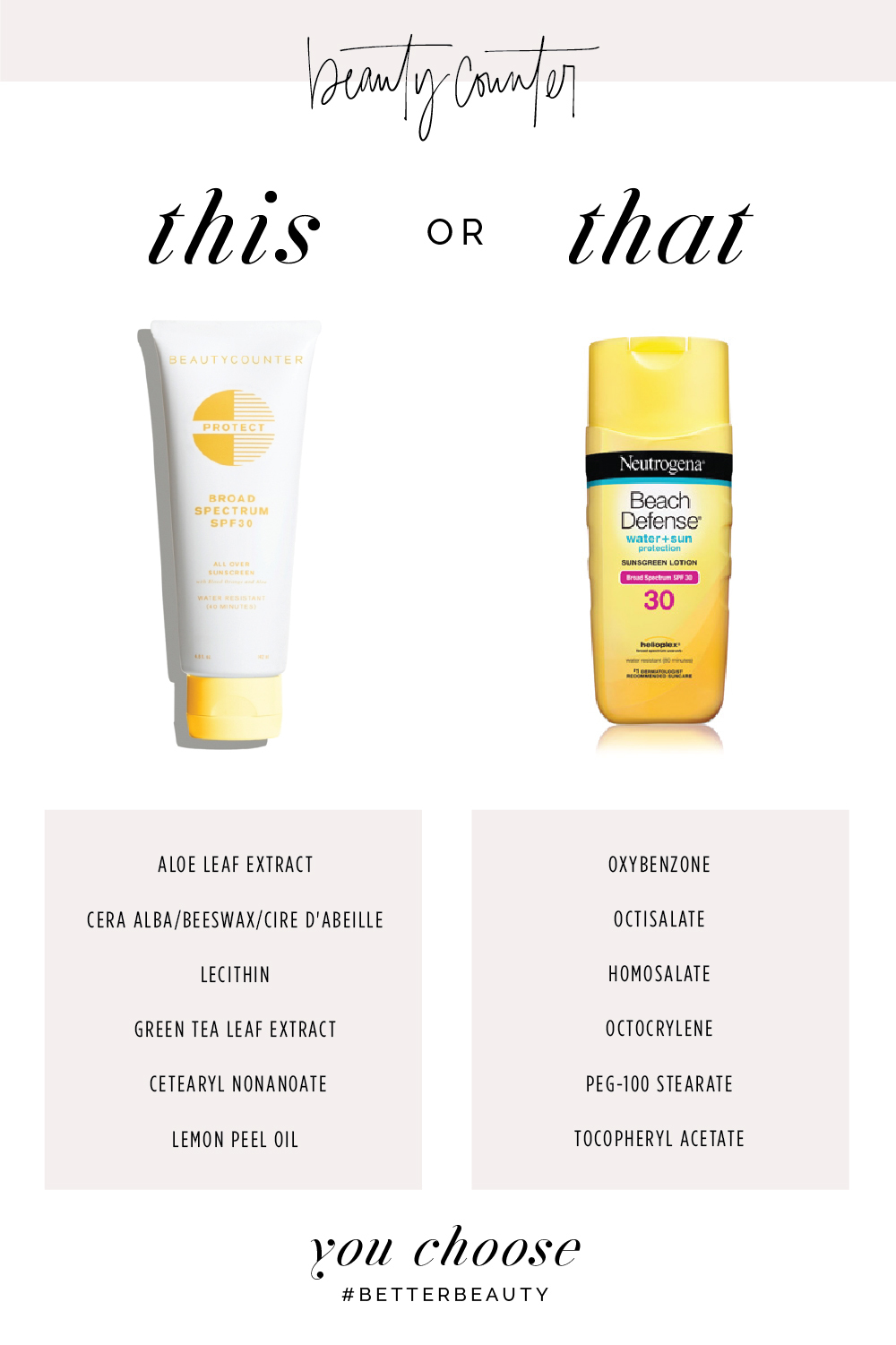 How can I get enough vitamin D from food?

Vitamin D is naturally found in fatty fish, liver, and egg yolks. Some mushrooms make vitamin D when they're exposed to the sun.
Some foods are "fortified" (which means vitamin D has been added) with vitamin D. These include milk, some orange juices, breakfast cereals, and yogurt. It will say on the label how much vitamin D has been added per serving. However, please purchase wild salmon, and be aware that the foods with added Vitamin D may be high in sugar.
Because vitamin D is fat-soluble, you can increase absorption of it from your food if you eat it with some fat (healthy fat, of course, check out healthy fats here).Between sun exposure and food, it still may be difficult to get even the minimum of 400 IU of vitamin D each day; this is why vitamin D supplements are quite popular.
How can I get enough vitamin D from supplements?
It's easy enough to just "pop a pill" or take some cod liver oil (which also contains vitamin A). Either of these can ensure that you get the minimum amount of vitamin D, plus a bit extra.
But before you take vitamin D containing supplements, make sure you check that it won't interact with other supplements or medications you may be taking. Always read your labels, and ask a healthcare professional for advice. Check out the Vitamin D I recommend to my clients here
Do not take more than the suggested dosage on the label of any vitamin D supplement, except under medical care.
The maximum amount recommended (for the general population) is 4,000 IU/day. Too much vitamin D can raise your blood levels of calcium (to an unsafe level), and this can affect your heart and kidneys.
The best thing, if you're concerned, is to ask your healthcare professional to do a blood test and make a recommendation about how much vitamin in supplement form is right for you. Your healthcare practitioner may recommend higher amounts of vitamin D supplementation for a short time while under their care.

Conclusion:
Vitamin D is an essential fat-soluble vitamin which; many people have a hard time maintaining adequate levels of vitamin D. There are three ways to get enough vitamin D: sun exposure, through certain foods, and in supplements.
I've given you some ideas how you can get the minimum 400-600 IU or vitamin D daily.
If you're concerned, it's best to request a blood test that tests your vitamin D levels to be sure what's right for you. Always take supplements as directed.
Recipe (vitamin D): Super-Simple Grilled Salmon
Serves 4
4 wild salmon fillets
1 bunch asparagus
1/4 tsp sea salt
1/4 black pepper
1/4 tsp dried parsley
1/4 tsp. dried dill
4 tbsp olive oil
Preheat the oven broiler and raise the oven rack. Place parchment paper on a baking sheet and place fish on top, skin-side down. Surround with a single layer of asparagus.
Sprinkle the fish and asparagus with sea salt, pepper, parsley, and dill. Drizzle with olive oil.
Broil for 8-10 minutes until fish flakes easily with a fork.
Serve & enjoy!
Tip: Serve with a side of rice or quinoa.
I'm a wife and mum, personal trainer, fitness/pilates instructor and body transformation coach, author of Cookie Dough in the Dark, creator of Vibrant Living Membership - your ONE STOP shop for health, fitness and nutrition..... among many other things!! I've had many issues dealing with the scale going up and down, a muffin top that wouldn't disappear, emotional eating binges that did not involve carrots and struggling with insecurity! Through all of this I just wanted to feel normal. I wanted to be happy like everyone else!
In my teens and 20's I wanted the quick fixes, the magic pills, the fairy dust – whatever I could get my hands on to make me a lean, happy and sexy machine. Yup, found out it doesn't exist. I wanted to cry!! I was so frustrated. I felt like I was going around and around until I was completely exhausted and back at the starting point. And when I talk with other women they feel that way too. So, I delved further into holistic health – the emotional, mental and physical – wrote a book, and have been in this field for many years helping 1000's of women.

I discovered that by being smarter, not working harder, I could get the results I wanted and also for my clients. It started with some really small shifts that I will share with you over time. With this new knowledge, I felt ALIVE, VIBRANT and COMFORTABLE in my own skin. And my clients felt this way too!
My mission is to continue to help women step into the body they WANT. To feel confident & sexy, in control of their food choices and have their clothes fit just as they should while having the energy to live a VIBRANT life.
Ready to elevate your health? As a certified Behaviour Change & Nutrition Coach, I'd be happy to chat with you. Contact me at [email protected].
Healthy hugs,
Tanya
References:
http://thewellnessbusinesshub.com/yes-nutrient-deficiencies-heres-proof-can/
http://www.hc-sc.gc.ca/fn-an/nutrition/reference/table/ref_vitam_tbl-eng.php
https://ods.od.nih.gov/factsheets/VitaminD-HealthProfessional/
http://www.precisionnutrition.com/all-about-vitamin-d
https://authoritynutrition.com/vitamin-d-101/
http://neurotrition.ca/blog/brain-food-essentials-sardines
https://vibrant-living-with-tanya.mykajabi.com/blog/recommended-supplements
https://vibrant-living-with-tanya.mykajabi.com/blog/healthy-fats-don-t-make-you-fat
I look forward to seeing you inside the 5 day stronger to the core challenge
Join us
Stay connected with news and updates!
Join our mailing list to receive the latest news and updates from our team.
Don't worry, your information will not be shared.
We hate SPAM. We will never sell your information, for any reason.