When the Craving for Chocolate Hits…Enjoy these Fabulous Treat
Oct 25, 2020
Enjoying chocolate is a pleasure, especially when you eat the right kind.
I used to eat way too many chocolate bars, homemade goods and sugary foods and this led to health problems, anxiety and a whole lot of other things that you can read about in my tell-all book, Cookie Dough in the Dark.
It got to a point where I couldn't ignore the symptoms I was having anymore and needed to make some changes. One of them was changing my sweet choice because I knew that I didn't want to go through life never eating chocolate again. If that's you too, check out these amazing recipes below, my book Cookie Dough in the Dark (click here for your first chapter for free) and pick up your freebie, Crush Your Cravings.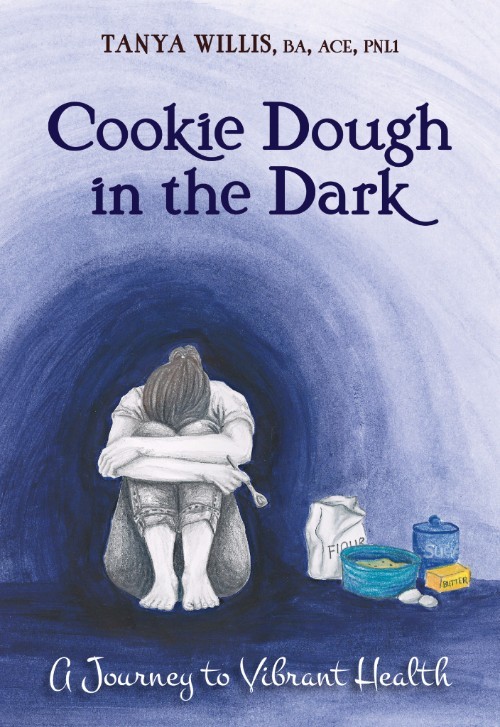 When I need my chocolate fix, here are some of my go to's:
Yes, chocolate is GOOD for YOU, so go for the DARK, raw or cold-pressed kind and thoroughly enjoy these tasty treats
Raw Chocolate Macaroons
Chewy Chocolate Balls
Freezer Fudge
Raw Chocolate-Chia Energy Bars
Energy Bites
You won't believe this Chocolate Cake
Raw Chocolate Pudding
Keto Fudge
For even more Raw Chocolate treat recipes and smoothies, join our Skinny on Chocolate LIVE Zoom's and learn everything you wanted to know about chocolate right at your finger tips plus get your very own Skinny on Chocolate e-book loaded with recipes. Comment below and email [email protected] to join us.
Want to have some friends over and have a Skinny on Chocolate Party? Let's set it up!! Here is just a sample of what we made at the last one.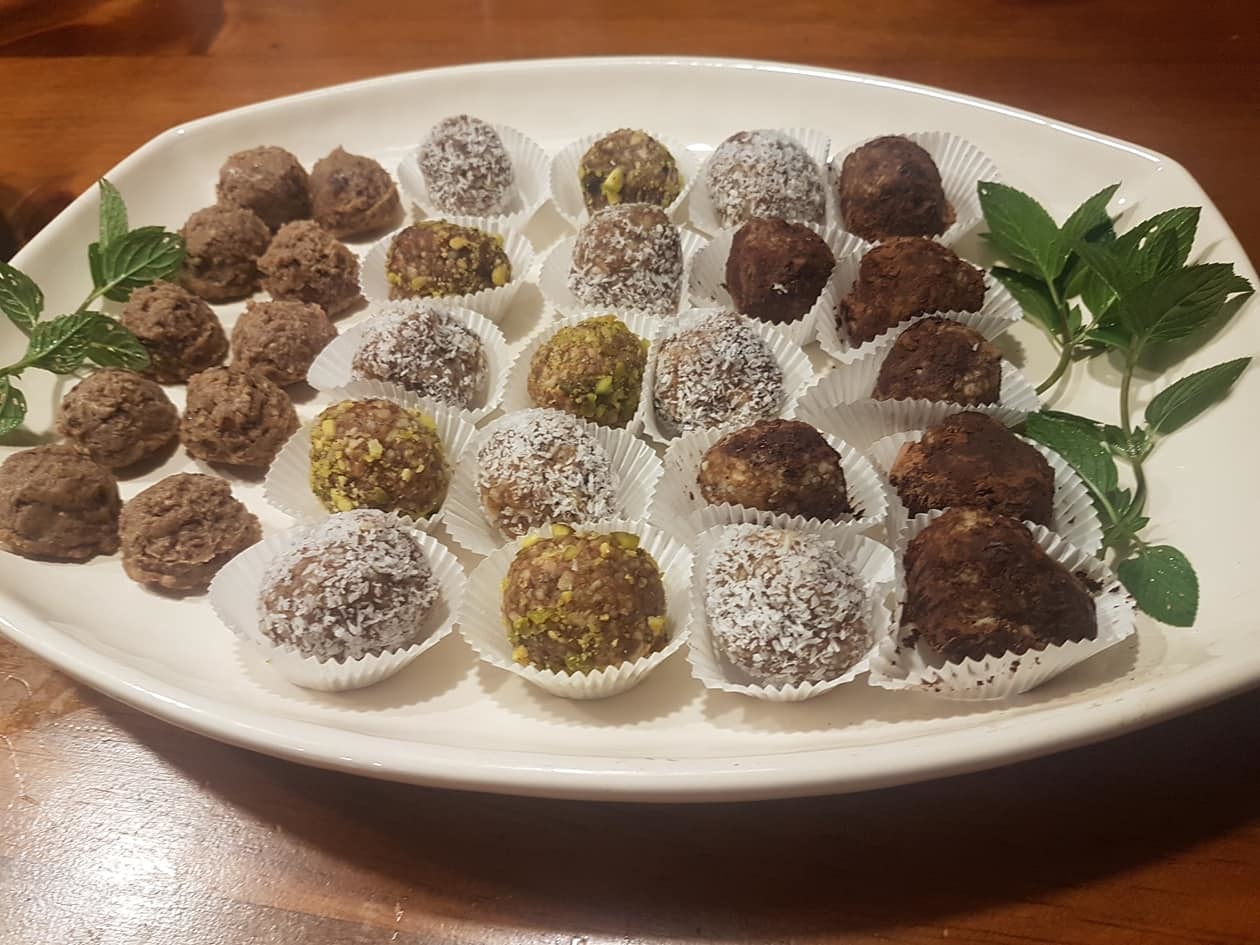 Why is Cocoa (Chocolate) so good for you?
Cacao is one of the BEST sources of magnesium of ALL foods. Magnesium balances brain chemistry, builds strong bones, and is associated with more happiness. Cacao is also high in the mineral sulfur; sulfur has traditionally been believed to build strong nails, hair, shiny skin, detoxifies the liver, and supports healthy pancreas functioning.
Raw chocolate contains more than 300 known nutrient chemicals, and there are compounds in chocolate that may be associated with the good feeling that raw chocolate consumption provides.
Cacao polyphenols have been scientifically shown to:
1. Lower blood pressure
2. Lower vascular cell adhesion
3. Increase circulating Nitric Oxide
4. Decrease platelet aggregation
5. Decrease rates of death from cardiac mortality and all mortality in general
6. Improve insulin sensitivity
7. Decrease fasting insulin
8. Increase blood flow to the brain
9. Inhibit plasma lipid oxidation
10. Decrease chronic inflammation in the body and cardio-vascular system in general."
* Dutch researchers indicate that dark chocolate contains four times the amount of catechin antioxidants than black tea. With Raw Cacao Powder, it would be 28 times more than Black Tea and potentially 7 times the protection!
* In trials, doctors at Harvard found that Antioxidant compounds called Flavonols in chocolate help the body to produce Nitric Oxide, a compound essential for proper heart function
Recipes
Chocolate Monkey
1-2 scoops High Quality Chocolate Protein Powder or 1 tbsp hemp or flax seed and 1 tbsp raw cacao powder (can increase this to 2 tbsps of each)

1-2 cup water or almond milk or coconut water (depending on how thick you like your shakes)

2 tbsp raw almonds or almond butter

1 tbsp chia seeds (optional)

1 frozen banana
Chocolate Raw Macaroons
I love coconut and one day I had a craving for chocolate macaroons but wanted a healthier version. These treats are so delicious, simple to make and nutritious.
2/3 cups raw cacao powder
½ cup pure maple syrup
¼ cup coconut oil (if not in liquid state heat slightly)
1 tsp organic vanilla
2 cups shredded organic coconut
2 tbsp hemp hearts (optional)
2-4 tbsp organic cranberries chopped into tiny pieces (optional)
2 tbsp of your favorite nut chopped into tiny pieces (optional)
Mix cacao powder, maple syrup, oil, vanilla together until smooth. When blended add in coconut and any or all of the optional ingredients (I love the hemp and cranberry combo)
Using a small spoon or melon scoop form 12-18 macaroons and place on parchment paper in a freezer safe container. Freeze until firm and can be stored for up to 30 days in fridge or freezer if they last that long!
Chewy Chocolate Balls!
2 cups almond or peanut butter (or any nut butter of your choice)
¼ cup raw cacao powder or ¼ cup raw chocolate protein powder
½ -3/4 cup local maple syrup
1 ½ tbsp raw coconut butter
2 tsp pure vanilla extract
1 tsp sea salt or pink hymalian salt
Combine all ingredients by hand or in your food processor
Roll into balls
Place in freezer
I love adding chopped candied ginger, chopped up raw chocolate, coconut, nuts or goji berries. Be creative and add what you like!
Freezer Fudge- Powerhouse Dessert
This recipe is so quick and easy to make and is a nutritional powerhouse! It is delicious and melts in your mouth!
1 cup organic dates, pitted* (see nutritional benefits at the bottom)
1 ½ cups water
1 tbsp pure vanilla extract
1 ½ cups raw nut butter of your choice (peanut, almond, hazelnut)
1-cup raw cacao powder (see nutritional benefits at the bottom)
½ cup dried shredded organic coconut
2 tbsp raw coconut butter
Place the dates in a bowl and cover with the water and soak for about an hour or until soft.
Drain, reserving the liquid and blend the dates and vanilla until smooth in a blender (Vita-mix) or food processor. You may need to add some of the soaking water as needed to form a creamy consistency
Add the nut butter of your choice and pulse until combined
Add the cacao and the coconut and pulse until combined
Press evenly into a 10 by 18 inch pan. Crumble the coconut butter on top and press into the fudge.
Place in the freezer until firm – about 3 hours.
Cut to your desired size and enjoy!!!
*Tanya's tip – You can make extra of the date puree and freeze it in 1-cup servings for later use. This will make it even faster the next time you make it. Also, the date puree does not freeze solid so it is ready to use and therefore doesn't need time to thaw!
Keto Fudge
Milky chocolate, tastes so good, melt in your mouth!!
1 cup coconut oil, soft yet still solid
¼ cup full-fat coconut milk
¼ cup organic cocoa powder
¼ cup Swerve Sweetener (Confectioners Style)
1 tsp vanilla oil or extract ½ tsp almond oil extract
½ tsp Celtic sea salt
1 Place the coconut oil and coconut milk in a medium-sized bowl and mix with a hand mixer on high for 6 minutes or until well combined and glossy. TIP: I used my stand mixer.
2 Place the remaining ingredients in the bowl and stir on low speed until the cocoa is combined (so it doesn't poof all over your kitchen). Increase speed, and mix until everything is well combined. Taste the fudge and adjust to desired sweetness.
3 Place a sheet of parchment or wax paper along the inside of a loaf pan.
4 Pour fudge into loaf pan.
5 Place the loaf pan in the freezer for at least 15 minutes, until just set.
6 Use the edges of the parchment to pull the fudge out of the pan.
7 Place on a cutting board and remove the parchment paper.
8 Use a sharp knife to cut the fudge into squares.
9 Store in an airtight container in the freezer; it will liquefy if you leave it in a warm area.
Makes 12 servings.
Raw Chocolate-Chia Energy Bars
1 ½ cups pitted dates
1/3 cup unsweetened cocoa powder
1/3 cup whole chia seeds (heart healthy omega-3 fats)
2 tbsp hemp seeds (optional)
½ tsp vanilla extract (optional)
¼ tsp almond extract (optional)
1 cup raw slivered almonds or raw shelled pistachios
Place dates in food processor and puree until thick paste forms
Add cocoa powder, chia seeds, and hemp, vanilla and almond extract, if using.
Pulse until all ingredients are combined
Add almonds and pulse until nuts are finely chopped and well distributed
Make 2 separate balls and flatten on wax/parchment paper
Wrap tightly and chill
Cut into bars or just pull a piece off when you want it.
I made these (with all options included) and I like them. When you feel like a little something sweet or chocolaty it hits the spot. Very easy to make.
​
The Skinny Chocolate Shake
¼ cup unsweetened light coconut milk
1 cup unsweetened almond milk (or your own homemade)
1 tbsp unsweetened raw cacao powder
3 pitted chopped dates (medjool dates are best)
½ cup ice
(may add a few stevia drops for extra sweetness)
Put everything in your vitamix and blend.
Pour and sprinkle with cinnamon
Ready to drink in less than 5 minutes!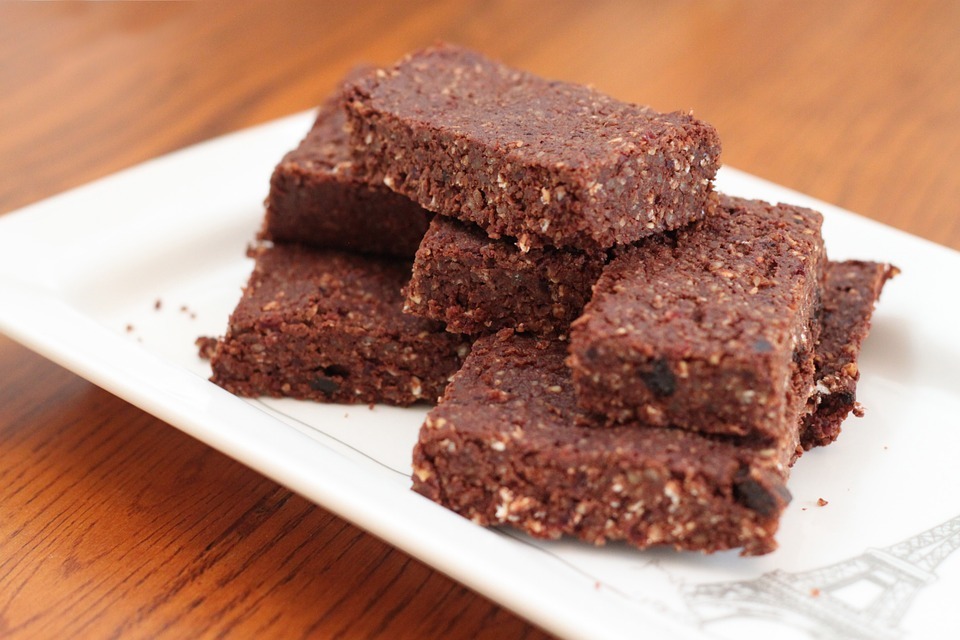 Other tasty Treats:
Raw Pumpkin Chocolate Brownies
I'm a wife and mum, personal trainer, fitness/pilates instructor, Behaviour Change Specialist, Nutrition Coach, Pain-Free Movement Specialist, author of Cookie Dough in the Dark, creator of Vibrant Living Membership - your ONE STOP shop for movement + nutrition + mindset..... among many other things!! I've had many issues dealing with the scale going up and down, a muffin top that wouldn't disappear, emotional eating binges that did not involve carrots and struggling with insecurity! Through all of this I just wanted to feel normal. I wanted to be happy like everyone else!
In my teens and 20's I wanted the quick fixes, the magic pills, the fairy dust – whatever I could get my hands on to make me a lean, happy and sexy machine. Yup, found out it doesn't exist. I wanted to cry!! I was so frustrated. I felt like I was going around and around until I was completely exhausted and back at the starting point. And when I talk with other women they feel that way too. So, I delved further into holistic health – the emotional, mental and physical – wrote a book, and have been in this field for many years helping 1000's of women.

I discovered that by being smarter, not working harder, I could get the results I wanted and also for my clients. It started with some really small shifts that I will share with you over time. With this new knowledge, I felt ALIVE, VIBRANT and COMFORTABLE in my own skin. And my clients felt this way too!
My mission is to continue to help women step into the body they WANT. To feel confident & sexy, in control of their food choices and have their clothes fit just as they should while having the energy to live a VIBRANT life.
Ready to elevate your health? As a certified Behaviour Change & Nutrition Coach, I'd be happy to chat with you. Contact me at [email protected].
Healthy hugs,
Tanya
I look forward to seeing you inside the 5 day stronger to the core challenge
Join us
Stay connected with news and updates!
Join our mailing list to receive the latest news and updates from our team.
Don't worry, your information will not be shared.
We hate SPAM. We will never sell your information, for any reason.